Earth is the one place in the known universe where we can survive, but we are exhausting it. By one measure, food is putting more strain on our planet than housing or transport.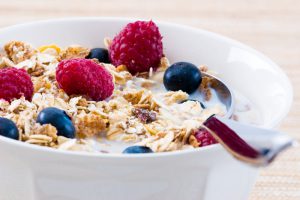 Livestock are a large part of this. Forests are cleared to make room for them and their food. Between 1985 and 2010 forests the size of India were cleared for livestock.  Reversing this would make a huge positive difference.
At the same time, foods focused on appealing to tastebuds and wallets are slowly making us sick, often without us noticing.
We decided to take the latest science, look at what the healthiest people eat, look at what's easy on the planet, and put this into a breakfast.
We carefully select and source ingredients to pack as much nutrition into your cereal bowl while looking closely at the environmental impact. And we put this information up front.
Healthy you
Healthy planet
Our products
Our story
How it works
Copyright © 2018